| Character | TV Show or Movie |
| --- | --- |
| Tandy Bowen | Cloak & Dagger |
| Lindy Watson | I Didn't Do It |
| Kim Crawford | Kickin' It |
| Skylar Lewis | Girl vs. Monster |
| Claire | Black and Blue |
Lindy Watson
Edit
Characters

General
Full Name

Lindy Watson

Gender

Female

Relationships
Siblings

Logan Watson (twin brother)

Romances

Seth (crush)

Others

Jasmine (friend)
Delia (friend)
Garrett (friend)

Appearance
Eye Color

Brown

Hair Color

Blonde

Production
Portrayed By
Lindy Watson 
is a main character from the Disney Show,
 I Didn't Do It. 
Kim Crawford

Edit
Characters

General
Full Name

Kimberly Crawford

Nickname(s)

Kim

Gender

Female

School

Seaford High

Relationships
Parents

Chuck Crawford (father)

Romances

Jack (boyfriend)
Brett (ex-boyfriend)

Others

Milton (friend)
Jerry (friend)
Rudy (friend)
Grace (friend)
Julie (friend)
Mika (friend)

Appearance
Eye Color

Brown

Hair Color

Blonde

Production
Portrayed By
Kimberly "Kim" Crawford
 is a 15-year-old girl who is a confident martial artist and the only girl in the dojo. That doesn't mean she can't go head-to-head with any the boys in the dojo though. Kim's skills are equal to 
Jack
's, the only other black belt in their dojo and she isn't afraid to use that to her advantage at times. She was a former member of the rival dojo, The Black Dragons, but joined the Bobby Wasabi Academy after finding out the Black Dragons were cheaters. Many people underestimate her because she's a girl.
 Kim also doesn't like being called just another pretty face. Kim has been known to lose her temper quickly, and she won't hesitate to threaten or attack a person, usually causing Jack to step in before things get ugly. In Hit The Road Jack, it is revealed that she has feelings for Jack, which she admitted it to Joan.
Skylar Lewis
Edit
Characters

General
Full Name

Skylar Lewis

Gender

Female

Relationships
Parents

Steven (father)
Julie (mother)

Grandparents

Edgard McCuery

Romances

Ryan Dean (boyfriend)

Others

Henry (friend)
Sadie (friend)
Myra (towards end of movie)

Appearance
Eye Color

Brown

Hair Color

Blonde

Production
Portrayed By
 Skylar is a fearless teenager with a positive attitude. She does not back down to things easily. She is not easily frightened and anything from a school project to a cemetery is faced with no fear from for Skylar. Skylar also has a very strong and powerful singing voice to showcase her bold attitude even more!
Claire is a girl that Olivia played in Black and Blue.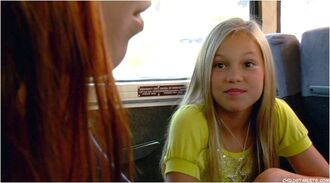 Ad blocker interference detected!
Wikia is a free-to-use site that makes money from advertising. We have a modified experience for viewers using ad blockers

Wikia is not accessible if you've made further modifications. Remove the custom ad blocker rule(s) and the page will load as expected.