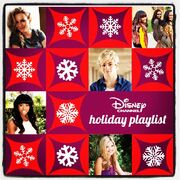 The playlist that features Olivia's Winter Wonderland. The playlist is available on iTunes,
1. Shake Santa Shake – Zendaya Coleman
2. Rockin' Around the Christmas Tree~Bella Thorne
3. Christmas Soul~Ross Lynch
4. Jingle Bell Rock~The McClain Sisters
5. Song for You~Brigit Mendler and Shane Harper
6. Winter Wonderland~Olivia Holt
7. Christmas is Coming~Ross Lynch and R5
8. All I Want For Christmas~Caroline Sunshine
9. Christmas Night~Coco Jones
10. Happy Universal Holidays~Adam Hicks [feat. Ryan Newman]
Ross Lynch has two songs on the playlist.One with R5.
The McClain Sisters performed Jingle Bell Rock at the 2011 Disney Parks Christmas Parade.
Ross will be performing "Christmas Soul" at the 2012 Disney Parks Christmas Parade.
Adam Hicks and Ryan Newman's song have a music video with the "Zeke and Luther" Cast.